WETEX & DSS 2023 attracts 26 companies from India
16 Nov 2023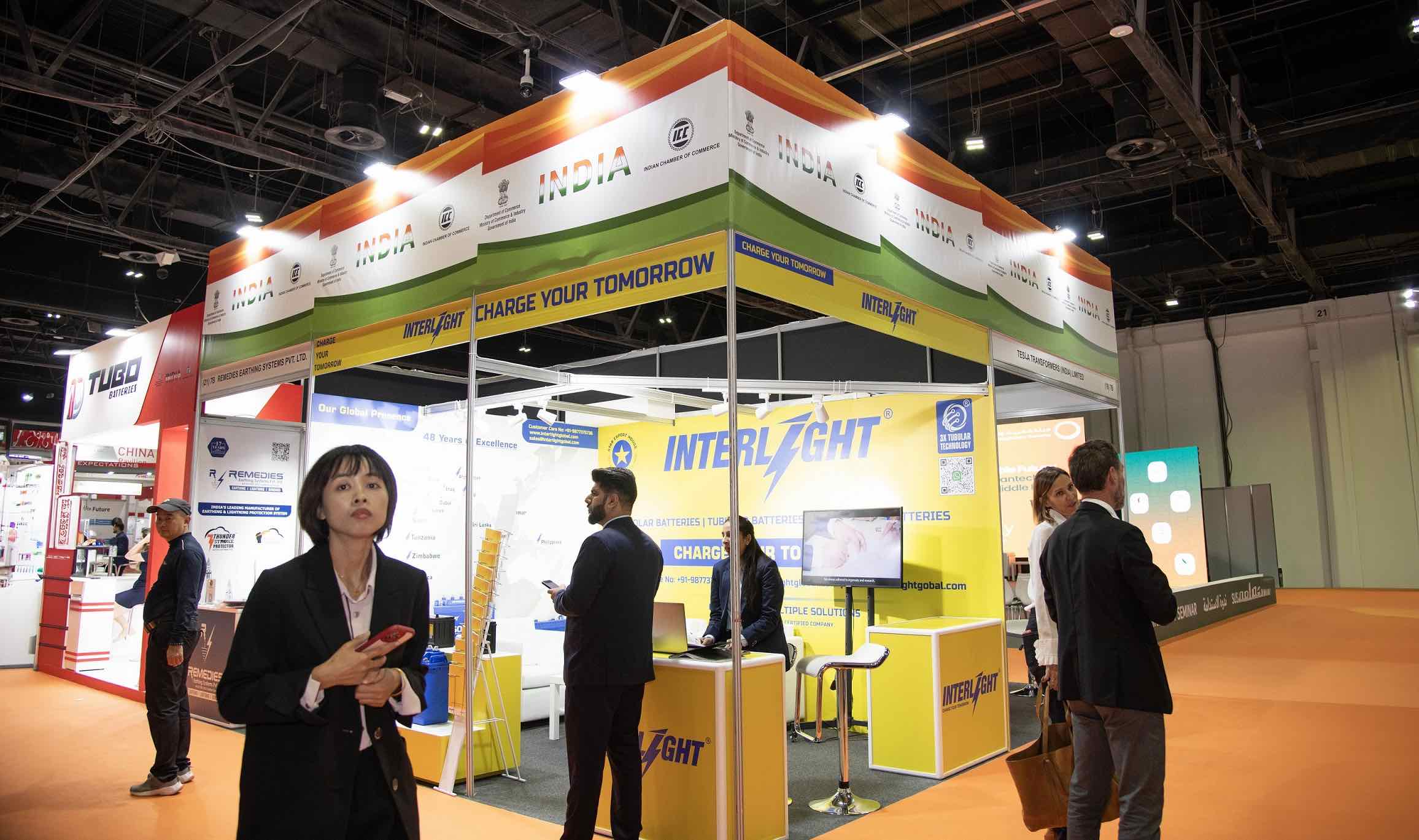 The 25th Water, Energy, Technology and Environment Exhibition (WETEX) and Dubai Solar Show (DSS) hosts 26 companies from India specialising in various technologies. These include Internet of Things (IoT) gateways based on 4G technology; different types of batteries including tubular, solar, and vehicle batteries; air purification solutions; energy network fault monitoring systems; sustainable smart home solutions; moisture-resistant building solutions; water production and treatment technologies; residential, industrial; and commercial water purification systems. Indian companies also showcase Reverse Osmosis (RO) water plants, water filtration systems, solar power plant management software, and smart metering for both industrial and residential applications, along with an extensive selection of equipment and products designed for the energy and water industries.
Dubai Electricity and Water Authority (DEWA) is organising WETEX and DSS 2023, under the directives of HH Sheikh Mohammed bin Rashid Al Maktoum, Vice President and Prime Minister of the UAE and Ruler of Dubai, from 15 to 17 November 2023 at the Dubai World Trade Centre.
"Under the guidance of His Highness Sheikh Mohamed bin Zayed Al Nahyan, President of the United Arab Emirates, and His Highness Sheikh Mohammed bin Rashid Al Maktoum, Vice President and Prime Minister of the UAE and Ruler of Dubai, the UAE-India bilateral ties have continued to grow. The aim is to enhance collaboration between the two countries for mutual benefit. The annual WETEX and DSS provides an opportunity to strengthen investments, partnerships, and trade relations, particularly in the areas of clean and renewable energy, digital transformation, smart grids, and sustainability," said HE Saeed Mohammed Al Tayer, MD & CEO of DEWA, Founder and Chairman of WETEX and DSS.
India is one of the UAE's most important strategic global partners as it holds promising investment and growth opportunities and a unique location in the Asian continent. India became the UAE's second largest trade partner in 2022, accounting for 8 per cent of the UAE's total global trade. The UAE is India's third largest trade partner globally, and first in the Arab world as of 2022.
"We at Sakthi are overwhelmed to be part of WETEX for the 2nd consecutive year as the event is always special to us, considering the quality of visitors and genuine enquiry. With two state-of-the-art plants in Bengaluru, India, we are the pioneers in the manufacture of Flooded Type Tubular Batteries, for UPS and solar applications. Carrying 30 years of legacy in the Tubular battery segment, we have established a significant presence in Indian and international markets. The technology developed by our own in -house R&D team, have helped our customers to get value for money and satisfaction," said K.Nagaraj, Director, Sakthi Accumulators Pvt. Ltd, India.
"Our brand's participation at WETEX and DSS 2023 is focused on creating solar assets for life. We elevate your performance and minimise your downtime through our cutting-edge monitoring, DG-PV Sync /Zero export, and meticulous operations and maintenance services," said Kunal Almadi, Co-Founder, Intello Tech AMC Pvt Ltd.